Energy is an important and dynamic topic in Michigan, and energy systems are currently undergoing notable changes that have significant economic and societal impacts. Energy is not only a technical challenge but also a public policy challenge, with important and extensive implications for security, public health, social equity, and climate change. Because energy infrastructure is long lasting and often difficult to change, the energy policy decisions made over the next two years will continue to have effects for decades to come.
This policy briefing summarizes the findings of research conducted on expert and public opinions on energy transitions in the state of Michigan.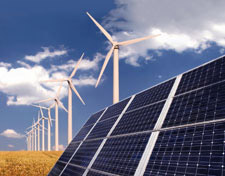 It focuses on issues of electricity policy rather than transportation fuels. Given the importance of electricity as a policy, social equity, and environmental issue, and the plurality of interests related to energy policy in the state of Michigan, it is important for policymakers and the general citizenry to understand opinions and perceptions of energy transitions in Michigan.
This study explores expert and public opinion on energy transitions in Michigan and finds that:
There are high levels of public support for a transition away from coal in Michigan.
There are very high levels of public support for solar and wind power in Michigan.
There is higher public support for solar power than wind power, which may be because siting issues related to wind power have been more widely discussed in Michigan than solar siting issues.
A large majority (80%) of the Michigan public is interested in leasing solar panels for their homes if it were affordable and available to them and if they owned their rooftop.
There is mixed public support for natural gas.
The majority of the public is opposed to nuclear power, although this research suggests that there could be higher support of more advanced nuclear technologies that are currently in the R&D stage. Nuclear power has not played a role in the discussion of energy transitions in Michigan.
The scale of energy generation (centralized versus distributed) and who owns renewable energy generation are more contentious issues than a transition to more renewable energy use.
For a more extensive report on the recent survey process and outcomes, please review the full policy brief. 
Sharlissa Moore, Ph.D. is an assistant professor in James Madison College and MSU's College of Engineering. Annick Anctil, Ph.D. is an assistant professor in MSU's College of Engineering, Civil & Environmental Engineeering.