Tue, 11/28/2017 - 12:50pm

—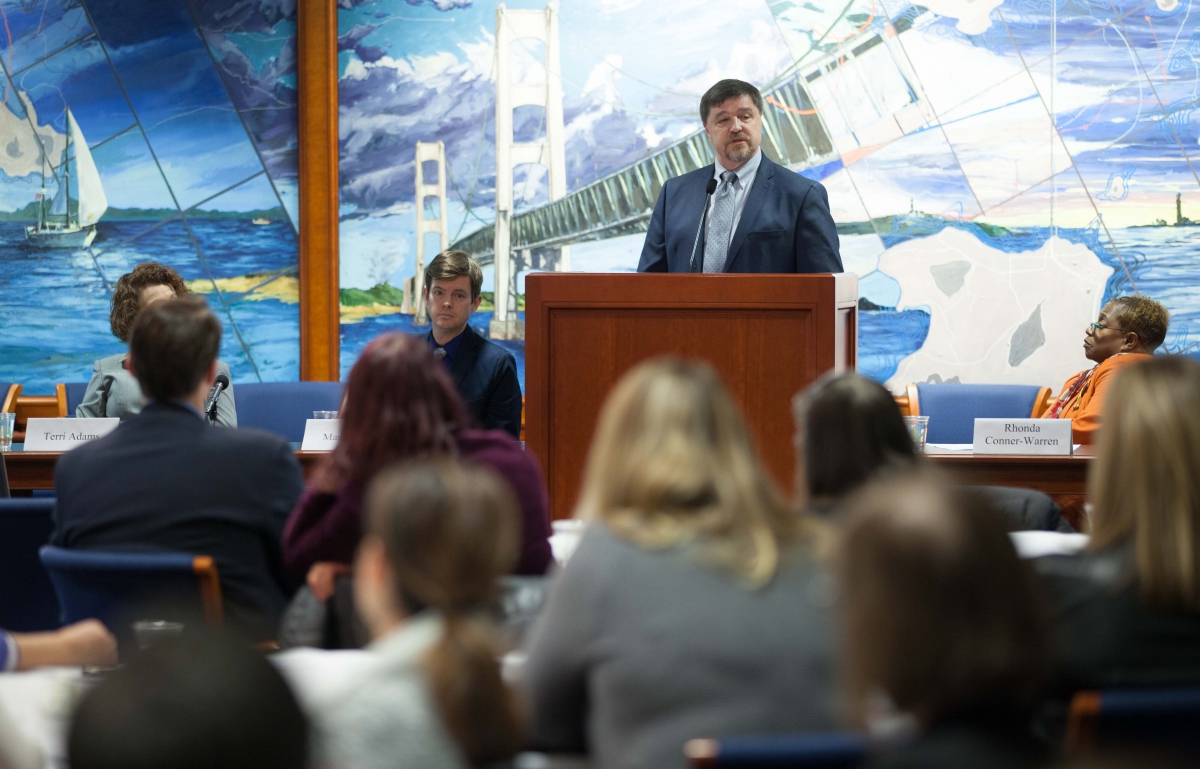 Michigan has seen a decline in the number of parents choosing not to vaccinate their children, but vaccination waiver rates remain stubbornly high. Walking the delicate path of increasing vaccination rates while maintaining parental choice was the topic of IPPSR's final fall policy forum Nov. 15.
In 2014, Michigan had the 6th highest vaccination waiver rate for kindergarteners in the U.S., Robert Swanson, the director of the division of immunization at the Michigan Department of Health and Human Services, told the audience during his presentation.
In some schools, more than 20% of kindergarteners were not immunized, Swanson said — a 'big concern" for his division.
Having proof of either vaccination or a waiver is necessary for admission to Kindergarten and 7th Grade in Michigan. The state allows waivers for medical, religious and philosophical reasons. It's the most lenient system of vaccine waivers in the U.S. and 18 other states allow non-medical exemptions.
Swanson said his department thought something must be done, but had to work around the relative freedom of choice parents have for immunizing their children.  Through the administrative rules process, in early 2015 MDHHS began requiring an extra step for parents who wanted to receive a waiver for non-medical reasons.
They now have "to go to the health department and receive education on the value of vaccines, the risk of not receiving the vaccines and the benefit to receiving vaccines, not only to the individual, but to the community," Swanson said.
The policy was first testing in 10 counties, which saw waiver rates drop from 6.3% to 3.3%, providing what Swanson called a "proof of concept."
It standardized the waiver process as well as the information parents received when seeking a waiver, without reducing their ability get a waiver. The education sessions were cast as a conversation, where parents could air their concerns, Swanson said. His division tracked the concerns that were raised and provided county health department with talking point to address any misinformation.
After the change, Michigan saw a 35% decline in the waiver rate. It has moved down five spots nationally, and now has the 11th highest waiver rate among U.S. states. And increasing waivers are still an issue of national concern.
According to the most recent data from the Centers for Disease Control, while six states saw a decrease in waiver this past year and five states stayed the same, all other states recorded increases in parents not vaccinating their children.
Michigan's approach won the praise of another presenter, Oakland University professor Mark Navin. He contrasted the path Michigan took with California, where the state legislature barred all non-medical exemptions in 2015 in the hope of reducing waiver rates.
While it received broad support from the medical community, Navin called it "a horrible idea."
He noted that 20-40% of pediatricians now refuse to accept children who refuse vaccines, with Claifornia's new law, the most fervent anti-vaccination families will no longer have access to a host of other social benefits.
"What you're going to lose is kids losing out on school and other ways the state can look out for them," he said.
And the medical waiver rate in the state has now tripled.
Navin predicted California's measure — which passed on a party-line vote — will have more divisive implications. He believes it will lead to greater political polarization. Another bill in their legislature had instead mandated education, but one event changed their approach.
"In my view the great shame of California was that they had a law that was working," but after a high-profile measles outbreak in Orange County, Navin said, "they captivated their imagination with a high-profile, emotionally evocative event that distracted them from the data that showed them their existing law was actually working, (so instead they) removed parental liberty, and further polarized, unnecessarily so, a vitally important aspect of public health."
Navin, along with MSU professor Mark Largent, published their support for Michigan's approach in an opinion column in the Detroit Free Press. They believe it is a proper middle ground, where is incentivizes parents who are avoiding vaccines out of convenience to get them for their children, without ostracizing the parents who are steadfastly against vaccination.
His researcher has found that parents against vaccines are not easily talked out of it, but "non-adversarial, sympathetic listening" can cultivate trust at a moment where the United States is "living in a culture of a crisis of trust."
Navin said reinforcing vaccinations as a cultural norm may be the best hope for swaying parents toward immunization.
Rhonda Lennise Conner-Warren, an assistant professor at MSU and pediatric nurse practitioner, provide the attendees with takeaways from her on-the-ground experience in cities like Detroit, where she has researched health-risk behaviors among children and teens.
While anti-vaccination advocates and activists are often typecast as white, middle-class mothers — a number of whom were in the audience from the forum — Conner-Warren said parents in Detroit also had anxieties about vaccination.
"I've heard parents say that Detroit didn't always get the most quality vaccines. Why, I don't know, but that's exactly how that felt, and that's created hesitancy over the years regarding receiving vaccines," she said.
Infant death from vaccine-preventable diseases, she said, are also often misinterpreted. Rotavirus, for example, can be viewed by parents in a community as a death due to simple diarrhea, when in actuality prevention could have saved a child's life.
Conner-Warren recommended individual employ "real talk" when discussing vaccines. Bringing up the consequences of contracting vaccine-preventable illnesses, such as amputation from meningococcal or long-lasting pain from shingles.
Both Conner-Warren and another presenter, Terri Adams, who is also from the division of immunization, discussed a new awareness campaign, ivaccinate.org, where parents who lost their baby to whooping cough because of a vaccine they were unaware they declined.
Conner-Warren said Michigan's policy now will better represent who is for and against vaccinations, and remove the parents who simply haven't had the time to get their children immunized.
A number of anti-vaccination parents attended the forum, and peppered the panelists with interrogatories after the presentations. All the panelistss remained behind to speak with them and answer questions.
Further information about Ithe forum, including speaker information and presentations, can be found here.
Simon Schuster is a graduate policy fellow at the Institute for Public Policy and Social Research.