Michigan Political Leadership Program alumni won seven seats in the Nov. 8 election which saw a new president elected.
Four incumbents will return to state House seats and three more will be held by first-term lawmakers when the new legislation session opens in January , said Matt Grossmann, noted political scientist and director of Michigan State University's Institute for Public Policy and Social Research.
That will seat seven MPLP alumni in the state House and four in the Michigan Senate, for a total of 11 legislative positions in the two chambers.
Dan Kelly, a Republican and 2005 MPLP graduate, won a spot on the Michigan State University Board of Trustees. Trustee Dianne Byrum, a Democrat and former MPLP Co-Director, will continue as a member of the MSU Board of Trustees.
"This is another winning MPLP year," Grossmann said. "Our graduates are making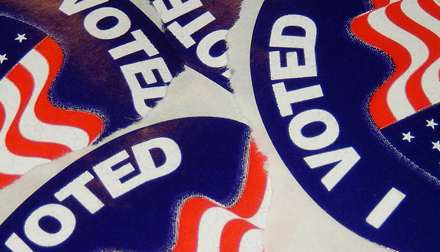 their mark across the state – whether they are rising in elected, appointed, business or nonprofit positions. We are proud of every MPLP alumni who aspires to public office."
Nearly half of MPLP's graduates are serving or have served in appointed or elected positions and newly released MPLP research shows that completing MPLP doubles Fellows' chances of running for elected office and triples their chances of winning.
IPPSR is home to MPLP, which has trained more than 600 people in leadership and campaign skills since the program was founded in 1992. Alumni are now at work as state agency executives, mayors, community leaders, tribal chairs, township and school board members and as business and nonprofit officers.
The weekend program runs for 10 months and takes fellows across the state for hands-on exercises, interactive policymaking simulations and executive briefings with state and corporate leaders.
As this year's election wraps, MPLP, in conjunction with the Michigan Political History Society, is hosting a post-election Wrap Up on Friday, Nov. 11 at 4 p.m. at the East Lansing Marriott. It features moderator Tim Skubick, pundits and panels. See more at https://ippsr.msu.edu/events/election-wrap-michigan-political-leadership...
The bipartisan program is capped each year by gala dinner and breakfast fundraisers featuring nationally known speakers. Former Vermont Gov. Howard Dean and political analyst and strategist Ana Navarro will appear at MPLP's dinner and breakfast. The dinner is Thursday, March 2, 2017 in Livonia. Breakfast takes place Friday, March 3, 2017 in Grand Rapids.
For tickets, tables, sponsorships and more information, see http://ippsr.msu.edu/events/mplp-annual-fundraising-dinner-featuring-howard-dean-and-ana-navarro.
IPPSR is a unit of MSU's College of Social Sciences. It specializes in political leadership training, public policy education and survey research through MPLP, the Legislative Leadership Program, Public Policy Forums, Office for Survey Research and State of the State Survey.
MPLP alumni returning to the state House seats in Michigan's Nov. 8 election are:
House Minority Leader Tim Greimel, D-Auburn Hills. He's a 2005 MPLP graduate.

Rep. Jeremy Moss, D-Southfield, a 2013 MPLP graduate

Rep. Michael Webber, R-Rochester Hills, a 2006 alum.

Rep. Sam Singh, D-East Lansing, a member of MPLP's 1997 class.
MPLP alumni who won open seats in the November vote are:
Sylvia Santana, Democrat of Detroit, seeking the 9th District House seat. She's a 2015 MPLP graduate.

Brian Elder, Democrat from Bay City, seeking the 96th District House seat. He graduated from MPLP in 2009.

Donna Lasinski, Democrat from Washtenaw's Scio Township. She's a 2011 MPLP grad.
For a full list of MPLP alumni in elected or appointed offices, please see MPLP leaders pages at http://www.ippsr.msu.edu/political-leadership/michigan-political-leadership-program-mplp/mplp-leaders-alumni on IPPSR's website at ippsr.msu.edu.