He talked about President Joe Biden's 100th day in office, the president's new infrastructure package and what it takes to be a successful political candidate.
Charlie Cook, editor and publisher of the Cook Political Report and one of America's best known political analysts and prognosticators, was the featured speaker for the 26th Michigan Political Leadership Program fundraiser. The 2021 even was April 29, but it's never too late to help raise essential funds for one of the country's top training grounds for rising leaders.
"It was great to welcome Charlie Cook, whose forecasts and Cook Political Report are must-reads," said Matt Grossmann, a political scientist who directs the Institu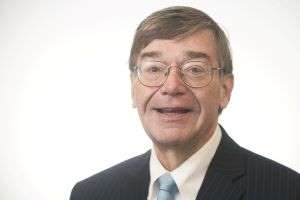 te for Public Policy and Social Research (IPPSR.)
Michigan State University's Michigan Political Leadership Program (MPLP) makes its campus home at IPPSR, an academic hub known for policy education, political leadership development and survey research.
MPLP is a bipartisan program established in 1992. Each year, it selects 24 Fellows who take part in interactive workshops, specialized events and hands-on activities – in budgetwriting, personal leadership roles, ethics and social and news media relations – over the course of 10 months.
A few years before MPLP was founded, in 1986, Cook wrote a first weekly, then twice weekly, column for Roll Call, the original newspaper of Capitol Hill and since 1998, for the National Journal.
Over the years, Cook has served as a political analyst for CNN, later CBS and most recently for NBC News. He has appeared more than a dozen times on NBC's Meet the Press.  
In recent years, Charlie has contributed to several editions of The Almanac of American Politics and was co-author of its 2020 Almanac. His
The Cook Political Report, with a staff of six, has been called "the Bible of the political community" by former CBS News anchor Bob Schieffer and by the New York Times, "a newsletter that both parties see as authoritative."
MPLP Fellows come from both parties as well and include teachers, lawyers, community activists, legislative aides, for-profit and non-profit organizations across the state. Equal numbers of men and women – Republicans and Democrats -- are selected as Fellows.
Nearly 700 people are MPLP alumni and more than half put their training to work in elected or appointed positions from Michigan's Secretary of State,, to tribal leaders, to school boards, county commissions, township boards and party precinct delegates.
Currently, 14 MPLP alumni serve together in the Michigan Legislature, nine in the state House of Representatives and five in the Michigan Senate.
"We are incredibly proud of this record," said Susy Avery, who served in the GOP administration of former Gov. John Engler, including positions as Michigan Republican Party Chair and Executive Director of the Michigan Women's Commission.
"Our alumni represent diversity and civility," said MPLP Co-Director Steve Tobocman, a former state House Democratic Floor Leader now managing partner at New Solutions Group, LLC. 
Together, they develop curriculum, nurture up-and-coming leaders and direct the program that generally runs for 10 weekends February through November.
MPLP typically recruits Fellows from May through September's end and name a new Class of MPLP Fellows at the year's end. The Class of 2021 Fellows begins its work this month. MPLP Fellows traditionally gather for a celebratory homecoming at the annual spring fundraiser.
See a full list of MPLP Fellows from communities across the state.