More college students are arriving in Michigan than are leaving our great state. What does that mean?
A recent article published in The New York Times offers some interesting information.  The article describes a study showing the flow of public university students from one state to another.  And, lo and behold, Michigan is a net winner! 
According to the report, 5,831 students came to Michigan to attend public colleges and universities, while only 3,112 residents left Michigan for other states.
One might be able to gather that this means folks think Michigan's public universities are a good value, a place where a college student can get the best bang for their buck. The report might be worth public policymakers at the state level giving some thought to how they can best support the state's public colleges given the overall reduction in state funding over the course of time. 
Staying Beyond Graduation
But how might we best take advantage of this influx of talent, not just during students' higher education stay but into the future?  How might we get these new arrivals to think about staying in Michigan beyond graduation?
Now one might ask "what's the big deal about getting people with college degrees to stay here."
Well, studies continue to show that the biggest single factor in determining community prosperity is how well-educated its population is.  Don Grimes, a senior research specialist with the Institute for Research on Labor, Employment and the Economy at the University of Michigan, who does a lot of work for the nonprofit "Michigan Future," an advocate for knowledge-driven economic development recently completed an analysis of data looking at median wages by educational attainment.
Pretty convincing stuff.  Here's more:
"City Observatory," which takes a data-driven approach to successful city and urban development practices, recently produced a chart drawn from the American Community Survey (educational attainment) and the Bureau of Economic Analysis (per capita income) to show that a four-year college degree explains a roughly 60 percent variation in per capita income among large U.S. metropolitan areas.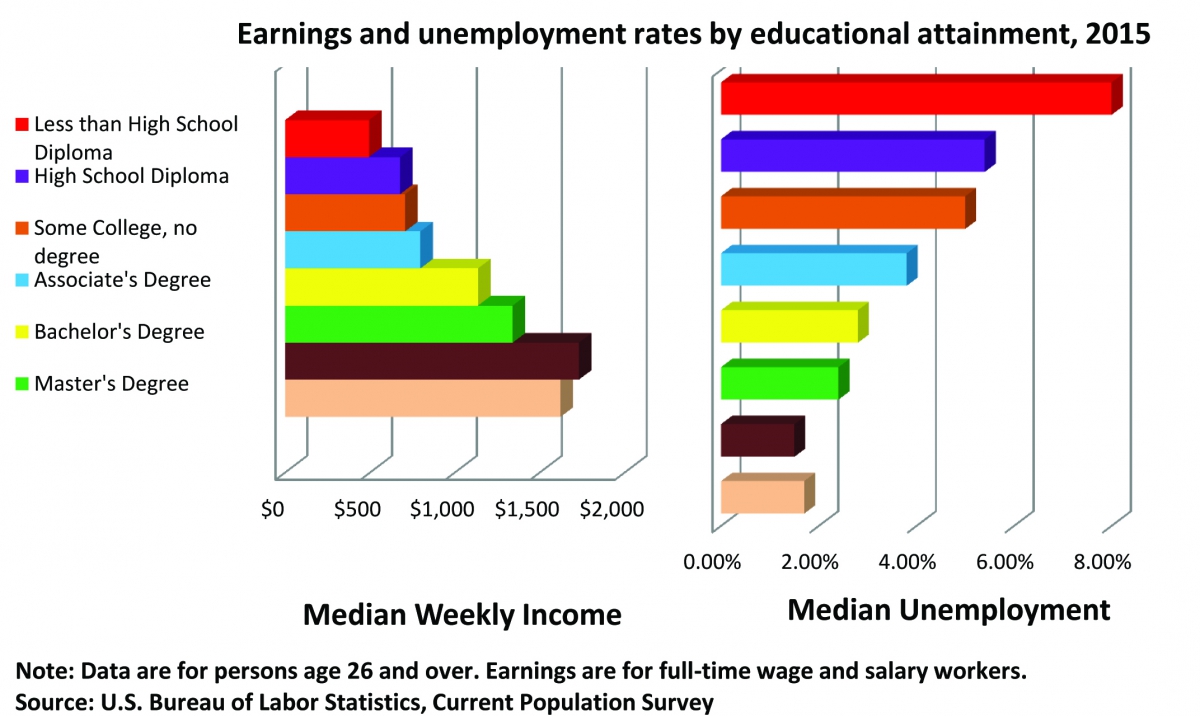 So, knowing that those with higher education not only make more money but also have lower rates of unemployment, one could conclude that we should be doing all we can to capture this segment of our population. The questions of course are how to go about that or what should we be doing to reach that goal.
I'd like to propose that we retain that segment of our population by investing in communities and working to create the kinds of environments that will retain and attract both talented individuals and the businesses looking to employ them.
Over the past several years, study after study has shown that majorities of college graduates, ages 25-to- 34, prefer walkable communities and neighborhoods with a mix of restaurants, cafés, shops, entertainment venues and cultural attractions. They seek multiple and convenient transportation options, including robust public transportation.
It's why, in its 2105 report "Core Values: Why American Companies are Moving Downtown, "the  neighborhood advocate Smart Growth America showed that hundreds of companies across the United States are moving to and investing in walkable downtown locations. Corporations are attracted, in large part, because these places help to attract and retain talented workers.
Think of development in a few of our own cities here in Michigan over the past several years.  Rock Ventures founder Dan Gilbert invested in property in downtown Detroit along with other firms moving employees there.  Accident Fund Insurance Company of American recently redeveloped a municipal power station along its Lansing's riverfront. Las Vegas-based Switch Ltd. Plans to locate its massive SuperNap data center in Grand Rapids.  Business' decisions to locate in or near city centers reflect an understanding of what their employees are seeking themselves.
State and Local Policy Ideas
It is imperative that Michigan continue to craft policies at both the state and local level that will work to retain and attract talented young people.  Here are a few ideas….
Recognize the value of placemaking: We need to recognize the kinds of places that attract young talent and put in place policies that encourage local economic developers to engage in placemaking activities. That means making it easier to build in and revitalize our core cities by encouraging high density mixed-use properties.
Design 21st century transportation systems: A disproportionate number of young people are choosing to live in central city downtowns, want to rent property and don't want to own, much less, drive a car.  That trend calls for robust transit systems and emphasis on "complete streets" policies where biking and walking are priorities and streets and sidewalks are designed for people, not just for cars.
Welcome all: Talent comes in many forms. We need all forms of talent, and we know that diversity and openness are prized by millennials and college grads specifically. We need state policies that signal Michigan is open to all, regardless of where one is born, cultural or religious heritage, or sexual orientation.
Properly fund basic urban services: For 15 years, Michigan has cut revenue sharing to cities and limited their ability to grow revenues that allow for the provision of amenities and quality of life services. Cities across Michigan are struggling to provide public safety, let alone city parks and support for arts. That must change.
Now more than ever, the evidence is clear that those cities around the country with a high percentage of populations with a college degree are more prosperous than others.  Knowing that Michigan receives more college students than it sends to other states, the answer to my opening question is simple… opportunity.