Mon, 04/04/2016 - 11:15am

—
The Detroit Public School system has been a hot topic of conversation in recent years, and everyone seems to have a solution. This mix of opinions is largely due to the complexity of the situation at hand; different people managing schools, a competing and prevalent charter school system, loss of population, and questionable actions made by leadership are highlights seen all over the news. In order to achieve solutions however, it's necessary that leaders come together and discuss the issues Detroit is facing and how to move forward.
On Jan. 20, IPPSR hosted a Public Policy Forum focused on the Detroit Public School system, and how to salvage it and help it be more successful. Speakers from a variety of backgrounds and viewpoints were invited to speak, and the tone was progress. Watch the video or read our summary below.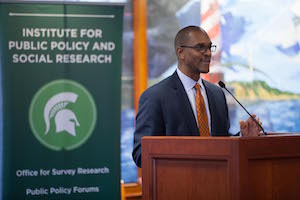 The forum began with a presentation from Dan Varner of Excellence Schools Detroit who shared a goal of providing an excellent education for every Detroit child by the year 2020. To achieve this goal Dan focused on the importance of the interconnectivity that Detroit's various schools had with one another. Dan mentioned that all schools systems influence each other. He noted that Detroit has 12 K-12 school systems that all operate under different structures and have independent mechanisms for choosing when to open new schools or close existing schools. Dan brought up the analogy "It's like there are 12 drivers on a street and each is driving by their own rules. They wave to each other, but don't talk to each other, and certainly don't coordinate their actions. Each parks wherever they want, drives the speed they like, and most ignore pedestrians."  Dan then looked forward into the future of the Detroit school system, envisioning a system where all schools are managed by a local team, and schools are shut down based on quality. On top of this, Dan recommended a system in which school enrollment is simplified and streamlined across all choices in addition to the state assuming all DPS debt.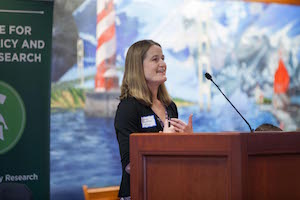 Next on the panel was Dr. Sarah Reckhow, who started off her presentation with a brief history on state control of local school districts. She noted that old methods usually focused on financial aspects of the system whereas the current wave of control is academically driven. Sarah then continued to bring to attention the abnormally high level of charter school authorizers that Detroit has, and partly attributed it to instability of the system. She went further to note that overall student populations in Detroit have been decreasing and compared the current state of school financing to a game of "Hungry Hungry Hippos" in which DPS, the EAA, Charter schools, and School of Choice schools are all competing for a small number of pupils whocannot be comfortably split between them. Like Dan, Sarah also ended with a note on the future saying that school governance in Detroit is unusually fragmented and removing some of this fragmentation will be key to creating a more sustainable system.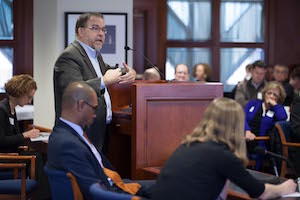 Next on the panel was Gary Naeyaert of the Great Lakes Education Project (GLEP). Gary changed the tone of the discussion and focused on accountability. Gary started with a statistic that nearly half of Detroit's adult population is illiterate, and half of Detroit's illiterate population has a high school degree. He then went further to show a variety of headlines suggesting fraud, embezzlement and poor management within the Detroit Public School system. Gary continued to say that Detroit Public Schools were not being held accountable, and with that lack of accountability paired with decreasing student enrollment and increasing charter schools Detroit's school system is heading down a death spiral of financial hardship. Gary then looked to the future suggesting a system that focuses on school accountability by giving schools an A thru F rating system and reforming failing schools. Additionally, Gary stressed the importance of early literacy programs and an equitable foundation grant for every student.
The final panelist of the evening was Dr. Kristi Bowman. Kristi offered statistics on the state of DPS's debt and noted the deficit is increasing each year. Kristi then emphasized the importance of statutory reform in increasing DPS's solvency. She noted that bankruptcy is not the preferred option for Detroit, but rather a restructuring of the system that increases local presence. Additionally she noted that the 1963 "Right to Education" was insufficient as it does not guarantee any sort of quality. Kristi then pointed towards the future noting that the state should provide financial relief for DPS debt. She closed by saying that DPS should be rebuilt while reconsidering longstanding policies that contribute to financial hardships such as those discussed by previous panelists.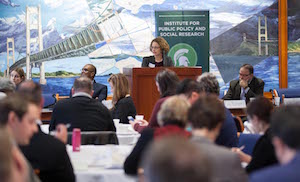 Since the forum, Detroit Public Schools' financial situation has worsened. In early March DPS's new financial manager informed state lawmakers that the Detroit Public School system would run out of money by April 8 if additional funds were not received. This would force schools to shut down before the school year reaches its scheduled end.
The Michigan House and Senate have responded with two bills, both backed by Gov. Rick Snyder and dubbed a "rescue plan." The first bill, introduced in the state House and passed with amendments by the Senate on March 22 would provide $48.7 million in emergency aid to allow DPS to finish its academic year and function throughout the summer. The second bill, introduced in the Senate, and awaiting House passage would provide long-term relief of $715 million. That amount would go toward paying down the system's $515 million debt and creatingmore stability. If passed, the bills would more staffretirement plans from pension plans to 401(k)'s and decrease collective bargaining rights, a choice criticized by some for making jobs in Detroit less appealing for prospective teachers. The bills would be primarily funded by tobacco settlement money. The state collected the money as part of a settlement that Michigan reached in 1998 in a class action lawsuit against the nation's largest tobacco companies.
The rescue package is slated to include some of the Jan. 20 panelists' suggestions, including  including creation of a Detroit Education Commission which would act as a single authorizer over charter schools and the implementation of an "A" thru "F" letter grade system for schools in which schools receiving a failing grade for three consecutive years would risk shut down.
It will be interesting to see how the race to fix the Detroit Public School system progresses, especially with timelines so drastic. Overall though, despite different opinions and ideologies, all of January's forum members voiced one thing in common: recognition of the need for change.