Students from across Michigan who have set their sights on careers in politics, international relations and public administration are nominees for the Daniel Rosenthal Legislative Intern Award.
The eight nominees hail from Cement City, Grand Blanc, Lansing, Mt. Pleasant, Saginaw, Troy, Rochester Hills and Waterford.
Co-sponsors Michigan State University's Institute for Public Policy and Social Research and James Madison College will name the winner and runners up at special ceremonies Tuesday, April 25.
Rosenthal, one of the first to take part in MSU's Legislative Student Intern Program, unexpectedly passed away while continuing his internship in 1977. His family made the award, and a series of new career-building workshops, a part of his legacy.
"All interns are encouraged to apply for this honor," said IPPSR Director Matt Grossmann. "The award is not only a resume mark of excellence, but the Ros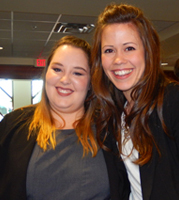 enthal workshops are also an excellent way to build networks and lasting relationships."
State capital interns face challenging, learning assignments, said Madison Dean Sherman Garnett. "They help draft legislation, interact with constituents and are expected to work alongside lawmakers and staff members in a public and professional environment," he said. "These are hard-to-repeat learning experiences."
Rosenthal Award nominees are:
Daniel Cavins, of Mt Pleasant, a senior studying political science at Central Michigan University. He worked in the office of state Sen. Morris Hood III and cited the challenge of legislation revising Michigan's "Rainy Day Fund" in his application. "I added the initial language myself, and look forward to witnessing the journey of this bill," he wrote.

Alec D'Annunzio, of Troy, who studies criminal justice and political science at MSU. The senior helped constituents with issues before state agencies in his internship with state Rep. Klint Kesto. "It always felt great when I was able to find an answer for a constituent or to resolve an ongoing issue…," he wrote in his application.

Jeoffrey deSpelder, of Lansing, interned in the office of state Rep. Ed McBroom. The home-schooled high school junior, wrote letters, fielded calls and managed the office while colleagues campaigned during the November 2016 election. He gained important insights, he said in his application. Politicians "have to be cooperative, willing to work with people and available to your constituents."

Steven Else, of Waterford, analyzed reports and potential legislation on complex and technical issues during his internship with state Rep. Patrick Green. "While researching bills, I am constantly absorbing facts and data that I use almost every single day in class or in my studies," the James Madison international relations and economics major wrote.

Andrew Irons, of Rochester, studies international relations and comparative culture and politics at MSU. As a freshman James Madison student, he interned for state Rep. Sylvia Santana, working on constituent issues, scheduling events and writing news releases. "I have been given many opportunities to showcase my passion and excitement for the field I love," he wrote in applying for the award.

Zachery Karnaz, of Cement City, is a political science student at Jackson College. He interned with state Rep. Martin Howrylak, taking part in constituent contact days and assembling databases to drive communications. The internship, Karnaz said, gave him the confidence to return to school to earn his associate's degree in arts. He was also recently elected a Cement City Village Trustee.

Stone Kelly, of Saginaw, studies political science at Lansing Community College and interns with Michigan House Television. He'll graduate this summer and has already been accepted at MSU to pursue political science. "When someone asks me what I do for my job, I like to describe it as C-SPAN for Michigan government," he said.

Elizabeth Trombley, of Grand Blanc, studies public and nonprofit administration at CMU and interned in Green's office researching infrastructure, scheduling events and helping re-instate a constituent's food stamps. "Each accomplishment is a learning opportunity and an experience that will benefit my future," she said in her application.