Time is growing short to nominate your outstanding interns and for them to apply for the career-boosting Daniel Rosenthal Legislative Internship Award. The prize was made possible by the family of a Michigan State University student who was one of the first state Capitol interns.
Legislative offices nominate interns and interns apply with an essay describing their award-winning work in the offices of Michigan's Senate and House of Representatives.
Nominations and applications can be found here. They are due Monday, March 1, 2021.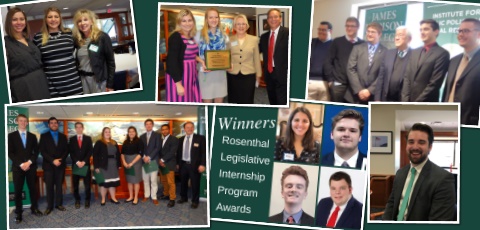 Winners will be announced by video on Wednesday, March 31.
The award is jointly offered by MSU's Institute for Public Policy and Social Research (IPPSR) and James Madison College. Both offer academic and career-building courses and experiences leading to policy and public service futures.
"This is a great way to take note of deserving interns and for interns to get their skills and work noticed as they complete their studies and launch policy careers," said IPPSR Director Matt Grossmann. Capitol internships can be paths to media and communications, advocacy, leadership and executive positions, Grossmann said.
"We're so proud of the many Rosenthal winners who are leading in Michigan's Capitol and throughout the state," said Maxwell Olivero, Madison Field Experience Coordinator. See a list of winners here.
Awards offer cash prizes from $200 to $2,500. All undergraduate interns in the House and Senate at work as of Jan. 1, 2020 are eligible for nomination, he added.
Anna Cool, of Schoolcraft, and Kyle Vickery, of Kalamazoo, were top prizewinners in 2020. Cool studies comparative cultures and politics at MSU. Vickery is pursuing a degree in political theory and constitutional democracy at MSU.
In 2020, Tyler Pischel, an MSU junior from Troy, won a $500 runnerup prize. Peyton Wyatt, an MSU junior in international relations and public policy from Caledonia, won a $200 prize as winner of an award honoring the late U.S. Rep. Vernon Ehlers, R-Grand Rapids.
2020 award nominees were praised as capable writers with good communications skills and strong awareness of current events and constituent viewpoints.
MSU has been honoring the life of an undergraduate science enthusiast who helped to pioneer internships in the Michigan Legislature for more than four decades. Daniel Rosenthal's family founded the award after his death in 1977.
Since then, the program's been expanded with a series of workshops focused on legislative internship excellence. Workshops have shared information on internship excellence and best ways to pursue career opportunities.
Due to the pandemic coronavirus, the workshops are temporarily on hold and planned to resume with a new format in Fall 2021, Olivero said.
For more information about the program, contact Katherine Cusick, IPPSR research assistant, at cusickk@msu.edu.
MSU's Institute for Public Policy and Social Research is a unit within the College of Social Science. Its focus is on public policy education, political leadership and survey research.
IPPSR is home of the Michigan Political Leadership Program, the Office for Survey Research, State of the State Survey, Public Policy Forum, Correlates of State Policy, State Networks, State of the State Podcast, Public Policy Research Fellows, Michigan Policy Insiders Panel and Michigan Policy Wonk Blog.