There were stories about Detroit's Black Bottom and its legends in American music. There were sights of urban revitalization, an inspiring bus and walking tour of Michigan's largest city and a well-timed stop for delicious desserts.
There was an up close tour of what is headlined as the world's largest urban farm, a chance meetup with a Michigan congresswoman, an update on progress in the city of Detroit and a presentation from Quicken Loans' Vice President of Miscellaneous Stuff.
"And that's not even half of what happened at MPLP's Weekend V," Matt Grossmann, political scientist and director of the Institute for Public Policy and Social Research. "Every MPLP weekend is an enriching and expanding experience."
MPLP trains 24 people – equal numbers of men and women and equal numbers of Democrats and Republicans – in the wonders of public policy, political campaigns and personal leadership skills during one weekend a month for 10 months.
MPLP Fellows are competitively selected through application, essay and personal interview. Applications for the Class of 2017 are now available here and due Friday, Sept. 9, 2016.
Late-summer training sessions will take this year's MPLP Fellows to Kalamazoo and then the rigors of facing the toughest media interviewers.
Weekend V was all about Detroit, its public policy history, challenges and future. "We talk policy. We talk old. We talk new," says Jeanette Pierce, a Detroiter and founder of Detroit Experience Factory, who personally guided MPLP's experiences.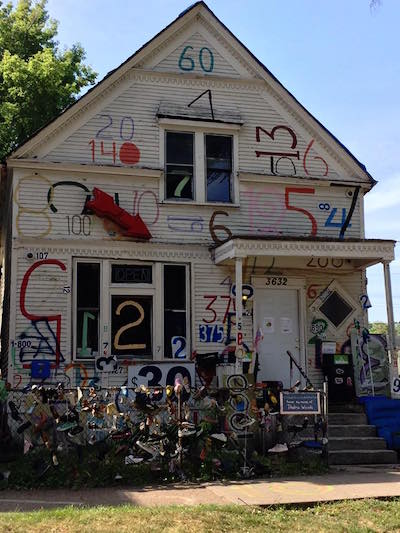 The tour took MPLP Fellows walking through the Heidelberg Project, a two-block stretch of four-color creations from discarded objects – eye-opening structures that the Project describes as a "demonstration of the power of creativity to transform lives."
"We try to connect the dots for people," says Pierce. In her decade of leading Detroit Experience Factory, the tour entrepreneur's organization has directed 75,000 people to connect with the city's industry and majesty.
The tour did more than that for 2016 MPLP Fellow Khumbo Siwela, of Kent. Pierce's colorful personality and passion for the city "helped her create a narrative that really made me feel like I wasn't just touring the city, but that I was a part of it," she wrote after the weekend.
Former reporter and communications director Ken Coleman, author of Million Dollars Worth of Nerve, made the late Detroit Mayor Coleman Young come alive, she said.
A visit to Hantz Farms, building an urban tree farm where abandoned housing once stood, was inspiring and thought-provoking, Siwela wrote in a set of observations about the weekend.
"I felt like I really didn't understand the concept of how building 20,000 trees would really help an area in such desperate need," she wrote. "As the tour progressed, I was struck by the thought that perhaps the easiest solutions often come from very innovative ideas that encourage thinking outside of the box."
"This weekend was pretty great," 2016 Fellow Emily Bridson of Kent wrote post-weekend. "The city is full of such rich history that it really makes you stop and think. It's beautiful, industrious, proud, tragic, and magical all rolled up into one."
Detroit's a dramatic case study in urban revitalization, wrote Bridson. "The one question I kept revisiting is how do you right-size a city built for two million that currently has a population of less than 700,000? It is a long-term proposition that requires extensive communication, city planning, and a team of experts that can implement decisions and get it done. Sounds easy, right?"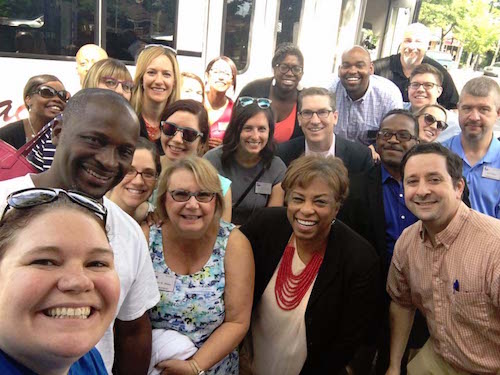 Between stops, the 2016 MPLP Fellows met with 2015 MPLP Fellow Charity Dean, Sales and Programs Manager of the Detroit Land Bank Authority; 2011 MPLP Alumni Shani Penn, Chief Talent Officer for the state Education Achievement Authority and 2002 MPLP Fellow Rep. Harvey Santana; David Palmer, Director of Business Partnerships for Workforce Intelligence Network, and Glenn Stevens, Executive Director, MICHauto with Michigan's AutoMobility Association.
During one of their walks, the MPLP Fellows also discovered U.S. Rep. Brenda Lawrence of Southfield.
The Fellows wound up the weekend by prepping for a July policy simulation session with the help of Elisabeth Gerber of the University of Michigan
MPLP's Weekend V was sponsored by Quicken Loans and the Michigan State Housing Development Authority (MSHDA).