The power strategists behind the winning presidential campaigns of the past two decades were stars of the stage, screen and crowds at MSU's Michigan Political Leadership Program's annual dinner and breakfast.
They appeared on television and radio, took questions from the press, traded gentle jabs and left their dinner and breakfast audiences laughing over their witty quips and presidential race predictions.
Jim Messina, mastermind behind President Barack Obama's 2012 re-election, and Karl Rove, President George W. Bush's senior adviser and deputy chief of staff, were the speakers at MPLP's 2016 fundraising events on March 3 and March 4. The events are annual and each year feature nationally known political figures.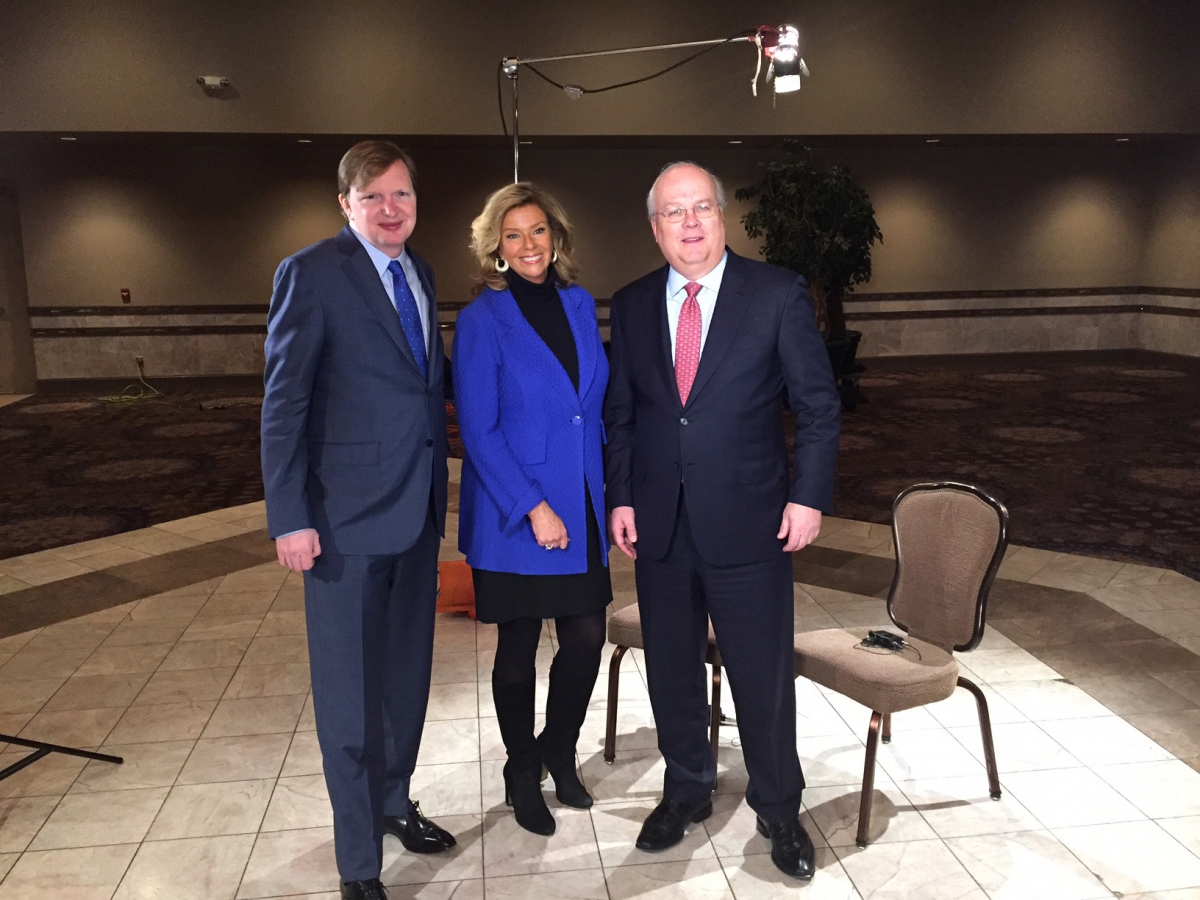 Michigan State University's Michigan Political Leadership Program is one of the nation's premiere political leadership programs, training 24 competitively chosen Fellows each year to take part in 10 months of a specially designed leadership curriculum.
Training sends the Fellows around the state for a series of lectures, events and hands-on activities on such topics as personal leadership, campaign finance, policy analysis, social media and ethics. Sessions are led by two co-directors – one Democrat and one Republican – and feature some of the state's leading analysts and top elected officials.
The March 3 dinner, at Laurel Manor Banquet and Conference Center in Livonia, and March 4 breakfast at the JW Marriott in Grand Rapids raise majority support for the multipartisan program. MPLP is also supported by the Herbert H. and Grace A. Dow Foundation of Midland, along with associations, corporations, labor organizations, alumni and individuals.
Donations for the program may still be made at https://commerce.cashnet.com/msu_3040
2016 marked the 21st annual MPLP dinner and 14th annual MPLP breakfast.
Messina served as Obama's deputy chief of staff from 2009-2011 and was campaign manager for the president's 2012 re-election campaign. He was director of personnel as part of the presidential transition team. Prior to joining the president's staff and campaign, Messina worked in congressional campaigns. He's now president and CEO of The Messina Group, a strategic consulting firm.
Rove served as Bush's senior adviser from 2000-2007 and deputy chief of staff from 2004-2007. At the White House, he played key roles, overseeing the Offices of Strategic Initiatives, Political Affairs, Public Liaison and Intergovernmental Affairs.
Prior his service with the president, Rove was president of Karl Rove + Company, a Texas-based firm specializing in work for Republican candidates, nonpartisan causes and nonprofit groups. He now writes weekly op-ed column for the Wall Street Journal, contributes to Fox News and is author of a forthcoming book "The Triumph of William McKinley: Why the Election of 1896 Still Matters." He's author of the New York Times bestseller "Courage and Consequence."
MPLP Alumni Lead at Every Level
MPLP's alumni have made their mark as well, said Matt Grossmann, director of MSU's Institute for Public Policy and Social Research where MPLP makes its home at MSU. IPPSR is a unit of Michigan State University's College of Social Sciences.
By the latest count, about 45 percent of MPLP's alumni are serving – or have served in the past – in an elected or appointed position. Currently, 11 are seated in the Michigan Legislature.
This year's dinner marked graduation ceremonies for the 24 men and women of the MPLP Class of 2015. In remarks during graduation, Grossmann invited the graduates to keep in touch with MSU and MPLP alumni activities.
"Tell us when you are able to put your ideas into practice and when you need new tools to succeed," he said…The secret to success for all professional development programs is the network you build and keep."
MPLP involvement doesn't end at graduation, said MPLP Co-Director Anne Mervenne, CEO of Mervenne & Company, a governmental relations consulting company. She served 12 years in the administration of former Gov. John Engler, was a member of Gov. Rick Snyder's transition team as vice-chair for talent and held elected office as an Ingham County Commissioner.
"Our alumni create great new networks during and after their MPLP experience, and that experience doesn't end at our mid-winter graduation ceremonies," Mervenne said.
"MPLP alumni are inspired by each other's leadership skills and campaigns for higher office. They are excited to gather as alumni to expand opportunities for all. And they discover what it means to learn, to lead and to succeed with each other side-by-side in a multipartisan environment."
In selecting new MPLP Fellows each year, the program seeks candidates with a compelling interest in public service.
"Successful candidates will have a desire to seek leadership positions," said MPLP Co-Director Steve Tobocman, a former state House member who is managing partner at Detroit's New Solutions Group, LLC and director of Global Detroit. He is a former elected Majority Floor Leader – the House's second-highest position, and authored 24 public acts during his three terms.
"MPLP values Fellows who are dedicated to sound public policy, experience in local community activities and electoral politics and willingness to learn and explore different points of view."