Thursday, August 5, 2021 -

1:00pm

—

2:00pm
MSU Health Promotion, Student Health and Wellness and the National Social Norms Center are presenting results of a landmark review of the pandemic COVID-19 and v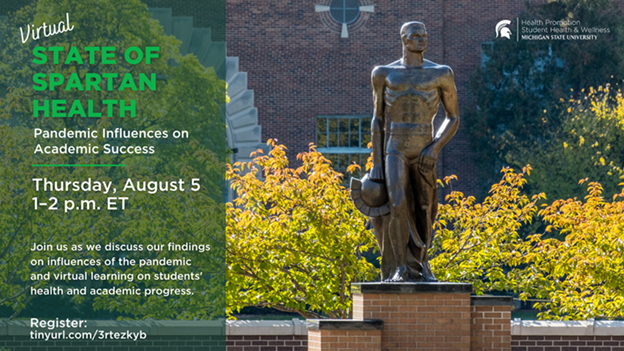 irtual learning on student health and academic progress.
REGISTER NOW for this Zoom webinar presenting the "State of Spartan Health 2021: Pandemic Influences on Academic Success" on Thursday, Aug. 5, 2021 at 1 p.m.
All are welcome to attend this unique overview of 2021 MSU National College Health Assessment (NCHA) survey results.
See results from the 2010 NCHA survey of the state of student health at MSU. 
Since 1998, the Office for Survey Research, a unit of MSU's Institute for Public Policy and Social Research, has overseen and coordinated data collection with the National College Health Assessment (NCHA), an initiative of the American College Health Association.
Question? Please contact Dr. Dennis Martell, executive director at the National Social Norms Center at MSU at martell1@msu.edu or Erica Phillipich, Associate Director, MSU Health Promotion, at phill360@msu.edu.